INTRODUCTION ABOUT MEGA VIET NAM CHEMICAL COMPANY LIMITED
INTRODUCTION ABOUT MEGA VIET NAM CHEMICAL COMPANY LIMITED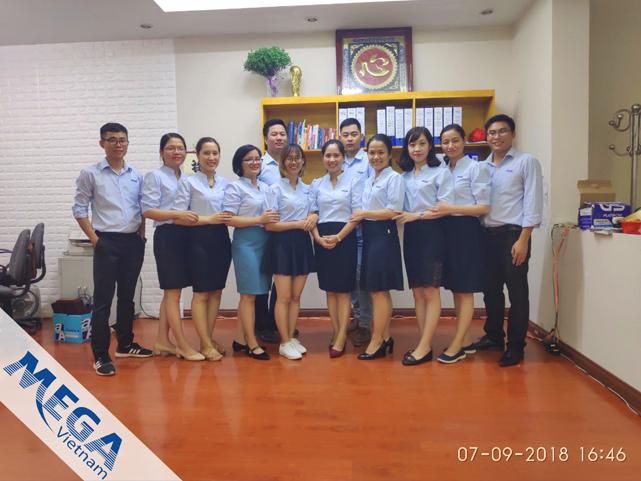 INTRODUCTION ABOUT MEGA VIET NAM CHEMICAL COMPANY LIMITED
15:51 - 07/01/2019
Mega Viet Nam Chemical Company Limited (referred to as Mega Chemical) was incorporated in 2012, it is the Company which specializes in trading in types of material chemical to supply to the paint, plastic and rubber sectors in Vietnam.
Together with the development of the Company, the employees also increase, have high professional levels in each division and always try to reach the professional level in all work. Mega Chemical always tries its best to build the prestige, trade name and belief from Customers on the background of technical support and products provided by the Company. Mega Chemical always wants to bring to the Customers with high quality products, reasonable price, quick, whole-hearted and favorable transaction.
Organizational diagram of Mega Viet Nam Chemical Company Limited
With the guideline "COOPERATION, SHARE, SUSTAINABLE DEVELOPMENT", Mega Chemical always pursues a constant philosophy: Customer is basic value of the enterprise, reason for the Company existing and developing. Mega Chemical always listens, analyzes, shares and understands the demand of each Customer, always tries its best and uses well its abilities to solve optimally the arisen issues during the cooperation for mutual development, attach the interest of the Company to the interest of the Customers and product Supplier.
Board of Directors of the Company determines that manpower is the key strength and driving force of the development; Mega Chemical always attaches special importance to improving the knowledge for cadres and staff, heightens occupational ethics to achieve the maximum satisfaction and belief of the Customer. At the same time, the Company also forms and builds a professional, self-motivated, creative working environment which has bold feature of Mega culture with the criterion "Company is the home, colleagues are siblings" to promote the best the inherent characters of each person, share the experience, support each other in front of the difficulties, strive to achieve a life which is full in term of material and profound in term of spirit for all members, be ready to share hands to do social works, share and support each other to develop in a sustainable and long-term manner.
On the background of achieved success and common consent, spirit of trying the best of the community, Mega Viet Nam Chemical Company Limited believes to direct towards the future with its own characters, strives to increasingly develop the criteria, brings to the Esteemed Customers with high quality products and the best technical support services, is always steady to move forwards and overcome all difficulties and challenges to rise up to new success, orients to become the leading Supplier of chemical product and related products in Vietnam.
Best regards!!!
EDITORIAL BOARD
Office address: Suite 703 - Building OCT3A - Resco Urban Area - Pham Van Dong Street
Xuan Dinh Ward - Bac Tu Liem District - Hanoi City - Vietnam
Tel: (+84) 24 375 89089; Fax: (+84) 24 375 89098
Email: contact@megavietnam.vn Website: http://megavietnam.vn